We are multiple Georgie Awards® winning renovators and custom home builders.
Our commitment to excellence generates great loyalty and many referrals from our discerning clients, architects and design professionals.
---
Awards
CHBA GOLD GEORGIE AWARD – Best Kitchen Design
CHBA GOLD GEORGIE AWARD – Best Renovation $50,000 and Over
CHBA GOLD GEORGIE AWARD – Best Interior Single Family Private Residence
CHBA GOLD GEORGIE AWARD – Best Single Family Detached Home 2,500 to 3,499 Sq. Ft.
CITY OF VANCOUVER HERITAGE AWARD – Rehabilitation of Haigler House 3537 W.30th Ave.
---
Client Testimonials 
execution and quality of their work was excellent…
"Really can't find the superlatives. I am frankly astounded at the workmanship. The longer we live there the more we are impressed by the job you guys did. Thanks again."
— Greg Kerfoot, West Vancouver, BC
"I have used Davidson Walker on several projects in the cast 25 years, including commercial and residential projects. They have always one a fabulous job – on budget and on time. Bill and Jim are professional and personable and I look forward to working with them again."
— Cantu Bathrooms, Vancouver, BC
"I hold no reservations when giving Davidson Walker Construction Ltd. my 100% blessings and I would recommend to the most discerning architect that there is unlikely any better or more competent group available to do their type of work."
— John N. Hembling, West Vancouver, BC
"I have worked with Jim for 15 years with projects ranging from home renovations to industrial waterfront projects. His team is currently renovating our new home. I am completely satisfied with all aspects of the work."
— Craig McKeen, Vancouver, BC
"Davidson Walker clearly distinguished themselves by acting responsibly and creatively to the complexities of the proposed scope of work. I could count on open and honest communication. During the contract negotiations and value engineering, they were reasonable and helpful while working to provide the best results for my budget. The execution and quality of their work was excellent ."
— Nelson Young, West Vancouver, BC
"Our thanks and appreciation to you and your 'team' for a very first class and professional job on our renovations. Once again, it was a pleasure working with Davidson Walker."
— William A. Adams, Vancouver, BC
"We hired Davidson Walker Construction to renovate our commercial showroom space. The whole company, from the owners, their project managers, the carpenters and sub trades, are extremely professional and easy to work with. The project scope included building a complex display system supporting over 8000 lbs of goods, new millwork, flooring, lighting and bathroom renovations. The work required a significant amount of coordination with the project architect. The renovation and buildout was finished on time and on budget, and there were no surprises. All of the workmanship was excellent, and we have had no issues in the 18 months since the project was completed. I would certainly use Davidson Walker Construction on future projects, and highly recommend their services"
— Salari Fine Carpets, Vancouver, BC
"Davidson Walker has an exceptional commitment to quality and professionalism. Our home renovation went smoothly, with no surprises, effective communication, thoughtful cost management, and exquisite results. Years later, I still have good memories of our home renovation and the great guys who worked on it."
— Sandy Garossino
"I was extremely pleased with the renovation Davidson Walker did on my home. We expected the high standard of quality which was delivered but equally impressive was the way the individuals at the worksite conducted themselves. They were polite, courteous, honest and took pride in their work. The contractor made ample time to answer our many questions and alleviate the stresses associated with such a project. He even made suggestions which improved the function of the home. The renovation we were dreading turned out to be a pleasurable experience! As we enjoy the finished product, Davidson Walker stands by their work and returns in a timely manner to fix any problems arising of which there are few. We are currently using them again on a phase 2 outdoor project."
— Shari Gaerber, Vancouver, BC
"Thank you so much to you both for the final walk through today and for creating such a wonderful home for us to live in with our new and growing family. We are so grateful with how quickly the work was done even though we continued to keep adding to the to do list! Chun, you were so great to work with and so quick to sort things out and organize for work to get done. We will always have great memories of this renovation and are already loving our new home."
— Louisa H., Kitsilano, BC
"Davidson Walker performed a major renovation 20 years ago and several maintenance jobs since. Last year they did another significant job for us. They are very professional and generally meet or exceed expectations. We would always engage DW for any heavy maintenance or renovation we might consider.
— B. Levine, Vancouver, BC
"I worked with Davidson Walker Construction on a medium sized renovation project and truly enjoyed the process of partnering with them. The renovation had many challenging aspects to it, yet they consistently found solutions to any challenge that arose. They were extremely helpful, willing, experienced and professional. They always accomplished what they said they would in a timely manner and tried to make our jobs as designers easier whenever they could. They were also very sensitive to the client's wishes and needs. I would not hesitate at all to recommend Davidson Walker Construction to anyone who is looking to have an incredibly knowledgable, reliable, experienced and honest crew complete a job for them. I would particularly feel confident recommending them for large scale and complicated renovations or new builds."
— Sophie Burke – Principal, Sophie Burke Design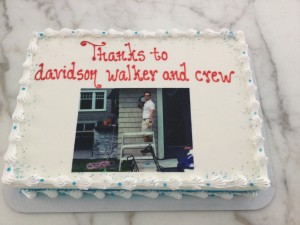 The Georgie Awards®, owned by the Canadian Home Builders' Association of BC, is Canada's premier residential construction awards program.
---